This section taps into the origins and influences that shape Hip-Hop culture.
Lyricist Lounge 1998: A Look Back
04.20.09
The Lyricist Lounge idea was based in the idea of showcasing up-and-coming lyricists. The thing I liked the most about it was the range of artists presented at that particular Philly show. Not only did we see an Eminem, we saw some local Philly artists, including The Last Emperor. I enjoyed hearing these different view and styles. It's one of the things that drew me to rap: the non-mainstream/non-comformist elements.
Notably, Eminem is the name that blew up out of the showcased artists at the Philly show. Let me review the experience: Eminem was the first performer. They introduced him as being signed with Aftermath and working with Dr. Dre (which was notable at the time since Dr. Dre was established). As everyone knows with live performances, the sound system is not always the best. I honestly was not impressed with Eminem at the time. One song did stand out and it would eventually become the song that changed his life: Slim Shady (My Name Is).
Fast-forward to January 1999 and I have MTV on and what pops up? This song. I knew it sounded familiar. I pieced it together fairly quickly, realized I had seen this guy at Lyricist Lounge a few months earlier. I was surprised. While I wasn't overcome by the material from his debut album, as I had chances to hear Eminem on other projects such as Soundbombing II and DJ Jazzy Jeff songs, I appreciated the talent. One of the things that irritates you (and perhaps artists like Eminem) – artists who have genuine talent yet the world/mainstream sees only the big hits. Maybe that's the rap connoisseur in me.
For me, it was my first time seeing De La Soul live, though as hosts they only did a few songs. Also during the show, it was clear that KRS-ONE was the best of all the performers. You could see the experience and understanding how to control an audience. He rocked The Electric Factory.
Common also performed and at the time he had recently released One Day It'll All Make Sense. Definitely notable, I was already into his stuff. Only knew a little of his previous work (I Used To Love H.E.R.). I would later see him on Spitkicker Tour summer 2000. Definitely happy to see him making it big not only as a rapper but as a legitimate actor. Cool dude…met him at a album promotion autograph thing at Temple. Still have the poster on my wall.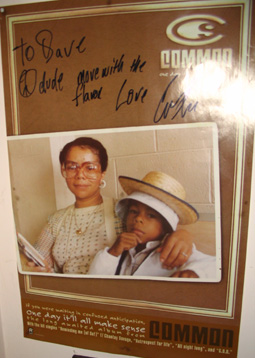 Another reason why the Lyricist Lounge tour is worth revisiting: the status of rap in 2009. The dreck I hear on the radio and see on the major video outlets lately is so poor. It saddens me as a long-time hip-hop enthusiast that this is the representation of 'hip-hop' to the younger generation. [those of us who know where to look for those rap artists who still provide the type of sound that us 'older' people were fortunate to experience in the 80s and 90s.] The LL platform showcased up and coming artists as well as some somewhat established acts (Heltah Skeltah). Was some of it garbage? Sure. But was much of it representative of artists who, at the time, appeared to be in it for the art of it.
Everyone understands that music is a business. People who make music ideally would like to get to that point where they can pay the bills by making, selling and performing the music they make. The difference is some artists in the rap game see it as a business first, then an art. As a listener, I appreciate the guys who do it as an art. Great rhymes, solid beats, soulful vibes and a general appreciation of the culture.
I have learned that the traditional outlets I used to rely on back in a pre-internet time are not the place I'm going to find artists I enjoy. Myspace, Twitter, YouTube and rap-specific web sites are my primary source for finding and listening to artists. There are no more MTV Raps, no more over-the-air radio stations which play a balanced mix of current artists. Having said this, there are still great mix shows like Real Late w/Cipha Sounds & Rosenberg on Hot 97 in NYC, The Come Up on Power 99 in Philly, True School Radio in NC and Basementalism in Colorado. There are also some pretty good online-only radio shows.
Lyricist Lounge brand is still around today, but I'm not sure if it's anything like the show I saw back in 1998. It was a great experience seeing veterans mixed with up and coming talent. There are newer forums for emcee, DJs and producers (Beat Society) these days. I look forward to checking them out.
-Dogmatic
The Electric Factory
Philadelphia, PA
Sept. 26, 1998
Hosted by: De La Soul & KRS-ONE
Artists: Eminem, The Last Emperor, Common, Heltah Skeltah,
Rasheed & Ill Advised, The Roots (Black Thought), Rah Sun,
Infamous Syndicate (Shawnna from DTP), Aphillyation, Dead Presidents
Guests: DJ Cash Money, Schooly D